Berkshire's Fall Play
This year Berkshire School has the opportunity to put on the play, She Kills Monsters, written by Qui Nguyen.
She Kills Monsters is a story that takes you back in time to the 1990s. The play is centered around a young woman named Agnes Evans who is grieving the death of her teenage sister, Tilly Evans. The story takes Agnes and the audience into one of Tilly's favorite adventure games, Dungeons and Dragons. There is sword fighting, monster-slaying, demons, and "magic missiles." She Kills Monsters brings you into an imaginary world full of adventures, through which Agnes Evans gets to know a whole new side of her sister.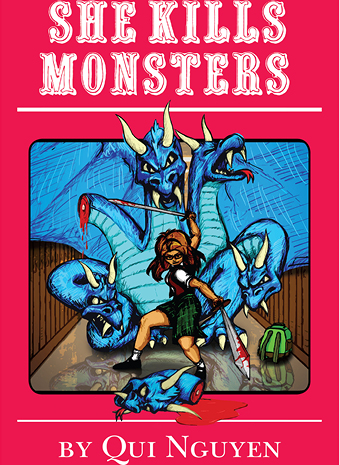 Jesse Howard, director of Berkshire's theater program, says, "She Kills Monsters is about being your fierce, amazing, nerdy self regardless of how the world treats you. Although the play is full of comedy, oddball characters, and stage combat, it also has a deeper side that encourages us not to hide our best selves away."
Berkshire's theater program has continued to produce plays and musicals that have blown the audience away, so expect that same level of incredible performance this fall. The cast has been working non-stop to create an unforgettable performance for family, friends, and faculty. They are a great group of students with lots of skills to give and show off to the audience.
Berkshire's 2021 fall play cast includes JoJo Brinkerhoff '24, Melissa Schuermann '24, Stella Howard '23, Leonard Xia '24, Sun Davis '24, Kyron Stevenson '24, Bella Piantini '23, Saul Salazar '23, Charlotte Bonomo '24, Uwa Igbinedion '23, and Ellie Grimmett '25. The stage managers are Saul Salazar '23, Stella Howard '23, and Nix Tavarez '25. Finally, we have faculty members who will be aiding in the production process: Jesse Howard (Director), Annie Rosenberg (Assistant Director, Costume Designer), Dominic Sayler (Tech Director), and Ryan D. Winkles (Fight Coach).
Since this play requires on-stage combat and sword fighting, Winkles from Shakespeare & Company, a professional live theater production company, will be helping out the cast. Winkles has been a part of Shakespeare & Company for 15 years as an actor, fight choreographer, and teacher. He has been in and worked on over 30 productions. Winkles also trained as a circus artist and performed with the Florida State University Flying High Circus, and has taught at Circus Juventas, Flipside Circus, Trapeze School New York, Brown University, UMass-Amherst. He currently teaches at Boston University.
At Berkshire, Winkles will teach the entire cast of She Kills Monsters defensive and offensive combat with both their swords and fists, including moves like slaps, punches, kicks, and hair pulls.
The cast of She Kills Monsters also had the opportunity to go to Shakespeare and Company for two days up in Lenox, Massachusetts. The company offers award-winning actor training programs, one of the most extensive in the country. The cast checked out old costumes and props used in plays dating back a hundred years ago. Many of the cast members said it was an opportunity they'll never forget.
The cast has been working tremendously hard to put on a great show for the audience and to tell people an unforgettable story. Don't forget to show your support to these young actors by coming to watch She Kills Monsters on Thursday 11/4, Friday 11/5, and Saturday 11/6 at 7:30 pm in Allen Theater!
Sources:
www.shakespeare.org