The Inaugural Skate For Her Game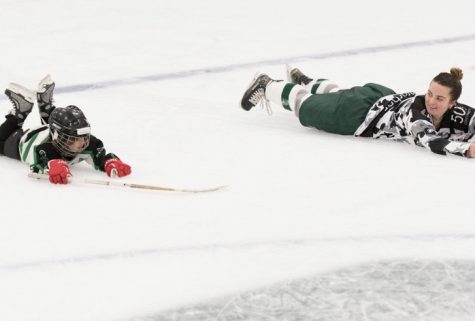 On Friday, January 10, the girls' varsity hockey team faced Buckingham Browne and Nichols School in the inaugural "Skate for Her" game, beginning a great tradition for Berkshire. While the final score was 1-6 in favor of BB&N, the Bears played a great game and raised money and awareness for an amazing cause. All proceeds from the game went to the Women's Sports Foundation. 
 According to their website, womenssportsfoundation.org, the Foundation was established by Billie Jean King in 1984 to "advance the lives of women and girls through sports and physical activity." Their goal is to bring more girls and women into sports through financial aid, research, education, and advocating based on the philosophy that girls who experience athletic success are more likely to succeed in high school compared to those who don't. They want to get as many girls involved in sports as possible to boost their academics, give them a team experience, increase fitness, and more. 
 In the words of Lisa Marshall, the head coach of the team, "Everyone deserves to learn life lessons, gain confidence, create lasting relationships, and most importantly, to dream." In high school, 40% of girls will play on sports teams, compared to 80% of boys, and playing on sports teams can benefit physical, social, and emotional health. As she told the community during a speech at a school meeting. Marshall founded the Skate for Her game to "create an opportunity for dreams to be seen."
 Members of the team raised money through selling pom-pom hats, concession, chuck-a-puck, a skate with the players after the game, and auctioning jerseys. In total, they managed to raise an astounding $5200 to "support equality and visibility for female athletics."
 After the game, younger girls from the community skated with the hockey players. Senior Ryle Griffith '20 stated that skating with these younger girls after the game was "something that I will always remember because I could tell how much they looked up to our team. After a hard-fought battle and tough loss, being around big smiles and laughs made me realize how much bigger than a game hockey is."
 The all-female A Capella group Ursa Minor opened by singing the national anthem, and Cat Appleyard '20 scored the first goal of the game for the Bears. The stands were packed with students in all black, cheering for the team. During the first intermission, members of the first girls' hockey team at Berkshire, many coaches from throughout the program history, and the team captains Annie Hauser '20, Appleyard, and Griffith were honored. 
 Coach Marshall would like to thank everyone who came out to make the night special. This was only the beginning of what we hope will be a long-standing tradition at Berkshire.