The Winter Concert
 On December 13, 2019, in Allen Theater, the annual Berkshire Winter Concert took place. Chamber Music, Jazz Ensemble, Chorus, Digital Music, Ursa Minor, and Greensleeves all performed.
 The Winter Concert would not be possible without Dr. Wu and Dr. Davis. Both of them have been working as music teachers and putting on Winter Concerts at Berkshire for 20 years. 
 Davis, one of the music directors at Berkshire explains, that the Winter Concert "can be a great celebration of the work we have been able to accomplish throughout the semester. Unlike the fall concert, we have had more time to fine-tune and work on music at a deeper level."
 Wu explains that in choosing what songs are going to be performed "there are some factors to consider: one, finding the right music to challenge further learning, two, focus themes on any topic we choose, and three we make sure the concert program represents enough diversity." This was seen in the song selection performed at the Winter Concert.
 This Winter Concert, Chamber Music performed a beautiful waltz from the famous ballet "Coppelia" and a collaboration with Chorus class, where they performed "Durme, Durme," a Sephardic lullaby sung in Ladino.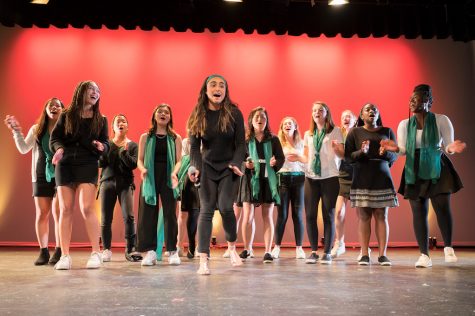 Besides the collaboration with chamber music, Chorus class sang "Vuelie" from the movie Frozen and Jacque Offenbach's famous composition the "Can-Can." 2020
 The Jazz Ensemble performed the theme to the television show Hawaii Five-O and a funk version of Ben Tucker's tune "Comin' Home Baby." Additionally, the Advanced Jazz Ensemble performed "Tenor Madness," a composition by tenor saxophonist Sonny Rollins. 
 Ursa Minor sang an arrangement of "Ocean Eyes" by Gian Le '20 and "Move," which included extended choreography. Mia Lake '20, an Ursa Minor member, exclaimed, "We brought a lot of energy to the stage!"
 Greensleeves performed "Fun, Fun, Fun" by the Beach Boys and "Counting Stars" by OneRepublic. 
 Throughout the concert, selected original compositions from the Digital Music classes were showcased as well. 
 Victoria Gagas '20 expressed that one aspect she loves about the Winter Concert "is the variety and the difficulty of the songs. As the year goes on, we learn more challenging songs, but performing such advance songs is so rewarding and one of my favorite parts about the Winter Concert." 
 Putting together all these songs took a great deal of work from Wu and Davis and the students involved. 
 Chorus, Jazz, and Chamber Music all meet four times a week for class, where they work on fundamental skills as well as learning repertoire for upcoming concerts. 
 Chamber Music even took a waltz dance class with dance teacher Mrs. Keefer in preparation for their performance of the waltz, "Coppelia," in the Winter Concert. 
 While Chorus, Jazz, and Chamber Music had class time to prepare for the concert, the acapella groups, Greensleeves and Ursa Minor, purely have to meet outside of school to rehearse. 
 Mia describes that the preparation process for Ursa Minor "was great but a lot to manage, but, I love making time for what I love. Ursa Minor is like my second family."
 Students who performed in the Winter Concert worked very hard and are passionate about music and performing. 
 The Winter Concert was a fantastic event showcasing the talented students and teachers in the Berkshire community. As Wu states: "How can you not love the Winter Concert?! It's during one of the most festive seasons!!!"