Shooting beyond the free throw line: Autumn Coard and her basketball career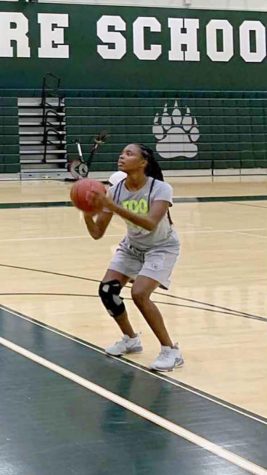 You may know Autumn Coard '22 as the tri-varsity athlete star. Just finishing an impressive Varsity volleyball season, Coard is transitioning from the volleyball court to the basketball court as she starts her second year playing Varsity basketball here at Berkshire School. 
 From Southampton, New York, Autumn grew up with basketball in her blood. She began to first play the sport in third grade. With her dad being a basketball coach, it wasn't long before Autumn started playing more seriously.
 Back home, Coard was involved in a local rec center team in which she was the only girl. Reflecting back on the experience of playing on an all male team, she explained, "I had to look past the discomfort and the struggle to be able to succeed on the team". 
 After being asked what her most significant moment was, Autumn proudly said being awarded female athlete of the year at her old school. This was an impressive feat considering her old school didn't even have a girl basketball team. Instead, she had to find a different school to play for if she wanted to continue her basketball journey.
 Coard's basketball idol would have to be her dad. She explained that he coached her for a long time and helped her "see the game from another perspective". If you were looking through Autumn's perspective, however, you'll most likely find yourself doing her pre-free throw shot ritual: spinning the ball, dribbling three times, then spinning the ball again before taking the shot.
 With the season still fresh, Autumn encourages anyone who's looking for a close group of friends to eat dinner with, travel with, and be very good friends with to join the team. Best of luck to Autumn Coard '22 in this year's season!