DeVon Thompson: On And Off The Court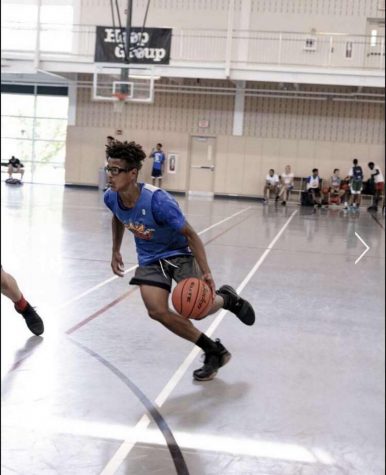 DeVon Thompson '22 left his home of Agawam, Massachusetts to become part of the Berkshire cohort this year.
 In the fifth grade, Thompson took his curiosity about the sport onto the court for the first time. After receiving a flyer mentioning basketball tryouts, he decided to give it his all, and he ended up making the team. Back home, Thompson has been involved in a club team for four years, during which he still plays during the spring and summer seasons.
 DeVon's proudest moment was making the Varsity basketball team as a freshman. When asked about the season so far, Thompson optimistically explained that they are "a great group of guys with the potential to go very far this year as long as [they] work hard in practice, trust the coaches and trust the process." He's very excited to be able to work with everyone on the team, as well as the coaches this year.
 And as for Thompson's favorite player? Allen Iverson. His toughness, grit, and attitude during the game make him an admirable player. As for a favorite coach, that would have to be Gregg Popovich for the San Antonio Spurs. DeVon noted that "he doesn't just know how to coach his players, he loves them as well."
 As for on the court, DeVon can be found dribbling once before taking a free-throw shot. For anyone wanting to try out next year, Thompson believes that if you work hard and are excited to learn, you'll do very well on the team. Good luck with the season this year!