Fall Jams – "Spooky Edition"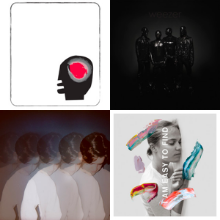 As October is ushered in, I decided to put a twist on the fall themed playlist. This year's autumn edition is a compilation of mildly spooky songs. I hope these songs leave you in sync with the time of the year and make you notice some quirky and original songwriting.
"Who Are You, Really?" – Mikky Ekko : The lyrics in this song explore the theme of having a false sense of control and making decisions that aren't your own.
"Rylan" – The National : "There's a little bit of hell in everyone" is definitely a spooky lyric, but not enough so to scare me away from this beautiful song.
"21 Days" – Scott Helman : Behind this love song of calming guitar strums is the story of a zombie apocalypse
Rounding out the playlist are: 4. "When I Was A Ghost" – Marco, 5. "Eyes Blue Like The Atlantic" – Sista_Prod, 6. "Zombie Bastards" – Weezer, 7. "Monster" – dodie.
Editor's Note: The "Fall Jams (Spooky)" playlist can be found on Spotify under the "Green and Gray Jams" profile.