The "Beauties" of Boys Thirds Soccer Looking Forward To The Fall Season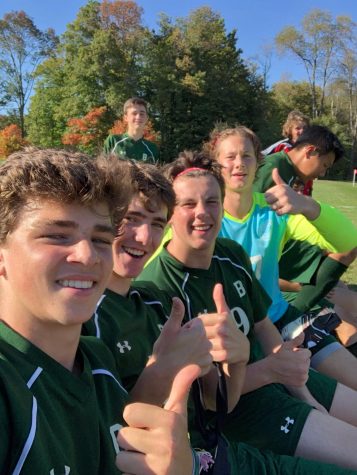 Under the mountain, on the Field of Dreams, the Boys Thirds Soccer team is ready to kick off their 2019-20 season. Lead by captain Alex Byrne '22 and rotating sophomore co-captains, the team is looking at a challenging schedule against some tough opponents ahead. In an exclusive interview, Alex stated, "Going into this season, we had many weeks of just practicing and working on our craft before our first actual game, and after a dominant performance against Kent I feel this team is ready to take on any challenges we face during this season." On Wednesday, September 25th, the men of Thirds defeated Kent's Thirds team in their first home game seven to zero that included goals from James Nemeth '22, Tate Plamondon '23 (3), Jamie McDonnell '22 (2), and Pryor Sullivan '22. Just last Saturday, Thirds defeated Trinity Pawling six to zero in another dominating match.
 This season, the team is joined by new head coach Dr. John Hyland. Coach Hyland will join second-year assistant coach Mr. Dan Roe. This year, the two coaches have taken a different approach to this Thirds Soccer team. Not only have they been practicing their foot skills and shooting, but they have also been focusing on rigorous cardio training. An oft-disliked staple of the Thirds Soccer team are the "Monday Rundays." Per the name, the Bears may run anywhere from one to five miles on Mondays. Always challenging, these days have proved to keep the team in shape for game days and practices.
 Many new freshmen and sophomores have joined the mighty men of Thirds, and they have made an instant impact. Striker James Nemeth '22 has had an easy transition from home onto the Field of Dreams: "It's been a lot of fun. The beauties have been very welcoming to all the new kids on the team. The returning sophomores have stepped up as leaders and captains and have included the new sophomores as role models for the rest of the team. I am looking forward to scoring more goals and having a successful season." 
 In the next few weeks, the Berkshire Boys Thirds Soccer Team will be facing Suffield Academy over parents weekend (10/12) on the Field of Dreams. After Parents Weekend, they will go on to face Indian Mountain School in a home/away series and Taft at home. Captain Byrne is ready for these games: "The odds may be against us, but this Thirds Soccer Program has never failed to leave everything they have out on the field to come out with a win."
 Be sure to go follow the Berkshire Boys Thirds Soccer on Instagram @berkshire3rdssoccer for news, highlights, and updates surrounding the team.