Exclusive Interview With Speaker Gina Barreca
 "Women should have the right to make as much trouble, to be as disruptive, as funny, as loud, as innovative, as angry, as wild as we can be, and as any man would ever dare," said Gina Barreca, in an interview after her all-school speech at Berkshire this weekend. 
 As a best-selling author of many books such as Babes in Boyland: A Personal History of Coeducation in the Ivy League and one of the first women ever to attend Dartmouth, Barreca had many tales to tell about her experiences "as a woman." Even those quotation marks have a story behind them.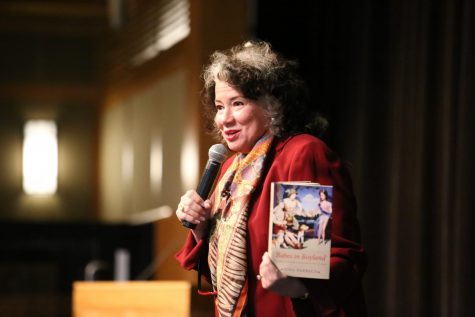 At first, Barreca was offended when one of her college professors asked her to answer every question "as a woman," because she wanted to be seen as an equal, but over time she realized that she should be proud of her identity because she really was living her life as a woman. She wanted every woman and girl in the audience to remember was that they should be proud to be women. It's not an insult; it should be taken as a compliment. 
 One comment that I heard repeated countless times in the days following Barreca's speech was on her use of humor to get her message across; students were struck by her creativity and her ability to connect to everyone. 
 She explained that she was tired of having to explain herself to people constantly, and of having to apologize for her opinions. When she used humor, she found that even if it was only for a second, people could see her side, and that shared moment connected them. She also wanted to be able to say outright what she meant and not have to worry about what people thought about her.
 She told me that being honest and straightforward didn't mean that she "stopped being nice," but rather that "it was time to take responsibility for what I believed in and was good at." She believes that it is time for women who play off of their strengths, rather than their weaknesses, to be celebrated. 
 When asked what she thought was the biggest challenge for coeducation in schools like Berkshire and Dartmouth, Barreca responded that it is time to "move past the idea that simple numbers of women on a campus are going to establish any kind of genuine equity." The work is not done yet. We need to give both genders a voice and have an open discussion about the issue, and the all-school read and this talk were a step towards that direction.
 Both We Should All Be Feminists and Gina Barreca's speech boil down to one simple statement: "feminism is that radical belief that all genders are equal human beings."