A Glimpse Into Berkshire A Capella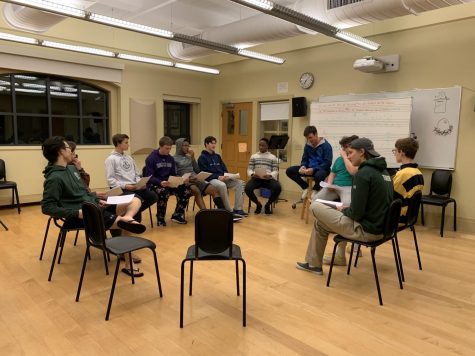 Berkshire's bustling music program is one of the many centers for both social life and academic enrichment here on campus. The music center is ever ebbing and flowing with an array of cheerful faces, the throng of various instruments, and, of course, the hearty blast of singing voices.
 There are three main organized singing groups on campus: the Berkshire Chorus, Ursa Minor (an all female a capella group), and Greensleeves (the male counterpart of the former). The latter two groups are the subject of this article.
 Greensleeves has three leaders or "heads": Logan Renneker '20, Luke Nyguen '21, and me. The group, as of this year, is a promising one, with the audition held three weeks ago bringing in a gaggle of talented singers, seven to be exact, who are quickly finding their place as we ready our first song, Uncle Kracker's Follow Me, for the upcoming winter concert.
 Greensleeves holds a strong legacy of dignity, elegance, and a hearty dose of fun, which its current members are eager to uphold. Recently, Greensleeves and Ursa Minor were asked to play a role in Berkshire's recent production of a new introductional video for its YouTube channel. Each group was filmed singing their chosen repertoire to the film crew that was present on campus for the past several days. Both renditions went without hiccups, and everyone left the session with an air of satisfaction that all good recording sessions should evoke.
 On the topic of Ursa Minor, they also have a new crew of talented singers that bode well for their upcoming performances. Ursa captain, Giang Le '20, who also happens to be the head prefect here at Berkshire, has been working tirelessly to train the five new recruits and to welcome the returners with fantastic success. Says Aimi Sekiguchi '20, one of those new recruits, "A highlight of Ursa Minor practices has been "improv" time where we just naturally harmonize or add variation to beats to create an impromptu a capella piece."
 They have, so far, learned two songs, Alicia Keys' Girl on Fire and Wings by Little Mix, both of which they performed with professional grace at the most recent Berkshire Trustee dinner, earning a standing ovation and fully exemplifying the dinner's theme of the school's fiftieth year of co-education. It was a night the trustees will be hard pressed to forget.
 In regards to the future, Greensleeves is currently going through the process of choosing their next piece for after the Winter Concert through a group vote. The most I can say about this is that all of the options are phenomenal, and I have full confidence that my fellow singers will be perfectly apt at learning whatever song we choose. Additionally, a mini-audition process for our current song's solo is now underway, and we all await its results eagerly.
 In essence, Berkshire A Capella has and always will be something that promotes the utmost unity among its members and the community around it. The bonding that has already taken place among the new members of Greensleeves and Ursa Minor is a testament to the power that the group has.
 As of now, we all eagerly await the Winter Concert when parents and students alike come to enjoy the wonderful, captivating music that always seems to leave the school in a pleasant daze for the days proceeding it.
 Of course, the programs would not exist as they do now without the expert guidance and leadership of Dr. Wu and Dr. Davis. These seasoned teachers never fail to bring together the ensembles and music that make Berkshire what it is, and for that, we are forever grateful.