Here is what has happened around the world – January & February Edition –
 While the entire world has been thrown into confusion as a result of the global pandemic, several international breaking news and current events that impact us all are being left unheard. 
 Myanmar: Myanmar, or Burma, is a country located in Southeast Asia, neighboring Thailand, Laos, Bangladesh, China, and India. Having gained its independence from Britain in 1948, Myanmar has taken steps towards transitioning into a new government under democratic rule.  During this journey, the nation was under military control from 1962 to 2011, which resumed on Monday, February 1, 2021. Commander-in-Chief Min Aung Hlaing is now in charge of this military coup and has declared a national state of emergency. He has already detained the country's top government figures, including Aung San Suu Kyi, an international democratic icon.  Suu Kyi was under house arrest for 15 years from 1989 and 2010 for organizing rallies calling for democratic reforms and elections. While in detention, she was awarded the Nobel Peace Prize in 1991 and became world-famous. She led the National League of Democracy (NLD) to win Myanmar's first free election in 25 years. 
 While protesters, including teachers, lawyers, students, bank officers, and government workers rose, the military imposed restrictions on gatherings and activities of more than five people in the country's large cities of Yangon and Mandalay to stop them. According to National Republic Radio (NPR), the Ministry of Information of Myanmar claimed during a statement broadcast aired on state television on Monday, February 8, 2021, that these protesters "threatened the country's stability." 
 World leaders and international organizations were quick to voice concerns. The United Kingdom, European Union, and Australia have particularly condemned the military takeover and called for the immediate release of those detained. President Joe Biden has even called out Myanmar's military leaders and has threatened to reinstate sanctions.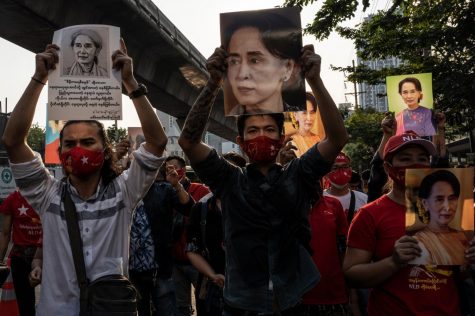 Japan: While the entire world is dealing with the global pandemic, the Japanese government, the Tokyo Olympics organizing committee, and the International Olympic Committee (IOC) have been contemplating whether or not to hold the Summer Olympics in 2021. It has been evident in the past year how hosting safe Olympic games may not be possible. As a result, the IOC proposed to cancel the Olympics, which has not happened since World War II in 1944.
 However, since that would result in a devastating financial blow to Japan and any more delay of the Olympics is impossible, Japanese Olympic officials have insisted on holding the event in the summer of 2021. Despite the endangering dream of holding the Olympics as a global celebration of the end of the pandemic, Prime Minister of Japan Yoshihide Suga has promised Bill Gates through a 15-minute telephone call that Tokyo Olympics "2021" will be held this year.
 Nevertheless, the nationwide polls performed by the Japanese broadcaster NHK have proved that even Japanese citizens are wary of how long it is taking the government to make a decision, with nearly 80% of respondents believing that the Olympics should either be postponed again or canceled entirely.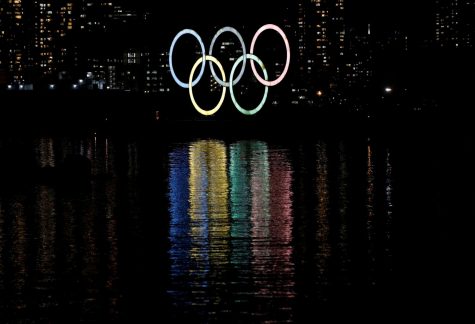 Poland: Despite the restrictions on large gatherings due to COVID-19, on Friday, January 30, 2021, protesters marched down Warsaw, Poland's capital city, during the night protesting against the government's imposing of a near-total ban on abortions.
 In late October 2020, Poland's constitutional tribunal court ruled that abortions can only be permitted in case of rape, incest, or a matter of mother's life at risk of death. While the government under the rule of the Law and Justice Party (PiS), a national conservative and right-wing populist political party, promised that this court's ruling was open to interchange, on Wednesday, January 28, 2021, the government enacted a federal law that essentially enforced the court's ruling. This sparked a nationwide protest. 
 Since the PiS came into power and published the anti-abortion law in September 2016, the All-Poland Women's Strike has been leading these protests. The protesters were seen holding placards with slogans like "Abortion is My Right," "This Is A War," and "You Will Not Burn These Witches," along with the red lightning bolt symbol of the movement. Police forces were positioned with tear gas, but the protesters were defiant with their masks and scarves tight.
    Regardless of whether these protests would persuade the government's and court's decision to pursue a better policy, all the women who protested in Warsaw that night have clearly expressed their opinion of the Polish government and their decisions on abortion.