Ukrainian Women Are Making Putin's Pursuit Difficult
Kiki Grace '24
 Putin's invasion of the Ukraine on February 24th, 2022 has forced civilians into a period of destruction, violence, and the incessant presence of war crimes. Though nearly 7 million Ukranians, largely women and children, have left the country as refugees, many have committed themselves to the fight, equipped with make-shift soup kitchens, reusable fabric for military nets, sewing machines, military weaponry, and the will to resist. 
 Women, the majority of the "rear front line" and fifteen percent of the military, have proven themselves patriots in a war where they are most at risk: 54 percent of Ukranians who are in need of help, due to the war-torn state of the Ukraine, are women. Assault against women, carried out by the invading army, has been used as a weapon of terror against occupied territory. Despite these gruesome conditions and the struggles brought on by war crimes and deployed family members, Putin has been met with a force he did not account for; women in the Ukraine have made crucial efforts to defend their country. 
 Similar to the soaring vitality fueling Ukrainian triumph, the strides volunteers have made were unforeseen. Women have been key in the organization of refugees leaving the country and those arriving at train platforms, fatigue covered by nightfall, seeking shelter. Whether women are sewing camouflage, creating Polish language schools for those headed to safety in their open-armed neighboring country, or converting their restaurant business into charitable soup kitchens, they continue their support for Ukraine. Ukrainian women are instrumental on the battlefield, while they are also leading a tireless fight; one thriving amidst the chaos of a war-weary civilian society. 
Tanya Kobazar, a soldier in the Ukrainian war, stands in front of Taras Shevchenko Monument on the streets of Lviv. Shevchenko was a 19th century poet, artist and inspiration for the Ukrainian nationalist revolution.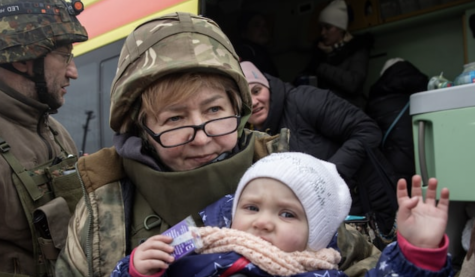 Photo: Ryan Kellman/NPR
As a medic in the Ukrainian forces, Viktoriia Kramarenko aids those seeking refuge in the city of Irpin, Ukraine.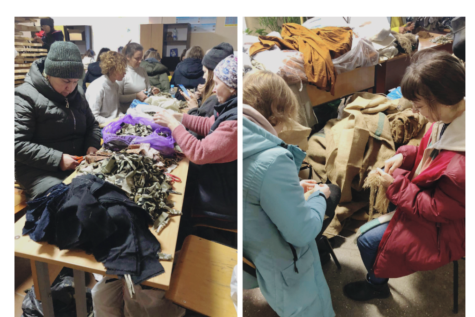 Photo: Heidi Levine/The Washington Post
Citations: 
The Editors of Encyclopaedia Britannica. "Taras Hryhorovych Shevchenko." Britannica, Encyclopaedia Britannica, www.britannica.com/biography/Taras-Hryhorovych-Shevchenko. Accessed 2022.
Ferris-Rotman, Amie. "Ukrainian Women Are Mobilizing Beyond the Battlefield to Defend Their Country." Time, 22 Mar. 2022. Time, time.com/6159261/women-ukraine-war-russia/. Accessed 24 Apr. 2022.
"How Many Ukrainians Have Fled Their Homes and Where Have They Gone?" BBC, 6 June 2022, www.bbc.com/news/world-60555472.
Khudov, Kostiantyn, and Siobhán O'Grady. "Ukrainian women stand strong against Russian invaders." The Washington Post, 18 Mar. 2022. The Washington Post, www.washingtonpost.com/world/2022/03/18/ukraine-russia-women-war/.
Matviyishyn, Iryna, and Lauren Frayer. "Ukrainian women are volunteering to fight — and history shows they always have." NPR, 19 Mar. 2022. NPR, www.npr.org/2022/03/19/1087712539/ukrainian-women-are-volunteering-to-fight-and-history-shows-they-always-have.
McKernan, Bethan. "Rape as a weapon: huge scale of sexual violence inflicted in Ukraine emerges." The Guardian, 4 Apr. 2022. The Guardian, www.theguardian.com/world/2022/apr/03/all-wars-are-like-this-used-as-a-weapon-of-war-in-ukraine.
UN Women. "In Focus: War in Ukraine is a crisis for women and girls." UN Women, 29 Mar. 2022, www.unwomen.org/en/news-stories/in-focus/2022/03/in-focus-war-in-ukraine-is-a-crisis-for-women-and-girls.
—. "Meet some of the women and girls on the front lines in Ukraine." UN Women, 8 Mar. 2022, eca.unwomen.org/en/stories/news/2022/03/meet-some-of-the-women-and-girls-on-the-front-lines-in-ukraine.