One Year Later: The Biden Administration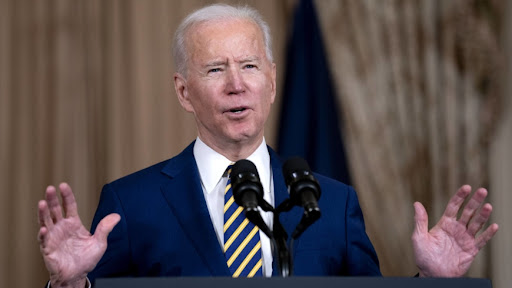 It's official. It has been one year since President Joe Biden took office as the 46th president of the United States. With historic voter turnout and an equally historic administration, President Biden brought in the first ever female, Black and Asian-American U.S. vice-president, Kamala Harris. 
 The administration also saw the first Second Gentleman, and the first Jewish second spouse in Douglas Emhoff. There are countless more records that have been broken, but here is a recap of what President Biden has, and hasn't accomplished in his first year as President.
He has gotten nearly 85% of all Americans 12 and older at least one vaccine shot.

President Biden's first year was the greatest year of job creation in American history, with more than 6 million jobs created.

Passed the American Rescue Plan and Bipartisan Infrastructure Law.

Experts estimate the American Rescue Plan plummeted the child poverty rate to the lowest levels on record, and the unemployment rate is down to 3.9%, two years faster than projected.

The unemployment rate dropped from 6.2% when Biden took office to 3.9% under President Biden –– the biggest single year drop in American history. When the President was sworn in, over 18 million were receiving unemployment benefits. Today, only 2 million are—also the biggest single year drop in history.
On the other hand, some things have changed for the worse…
Inflation in the US was

up a record 6.8%

over the course of the year.

President Biden's nearly $2 trillion "Build Back Better" social plan and a pair of voting rights bills, one of them being the John Lewis Voting Rights Act, has been stalled in the Senate despite passing the House. The reason why they haven't passed is due to Kyrsten Sinema and Joe Manchin, two Democratic senators who refuse to pass any "radical" voting rights and climate change bills.

"Regular gas costs, on average, 58.7% more than it did a year ago this time – $3.491 a gallon last month, versus $2.20 in November 2020, according to the federal Energy Information Administration (EIA)." Yet this piece of information from the Pew Research Center does tell the reader an important fact; "looking just at the recent rise can be misleading, or at least incomplete. For one thing, a year ago the United States was battling yet another wave of COVID-19 cases, large parts of the economy were still shuttered and demand for gas was way down. Estimated consumption in 2020 was 534 gallons per driver, down 14.4% from 624 gallons in 2019."
 It has been an eventful year for President Biden, and while there have been some great triumphs, there have also been some greater losses, both in terms of human life, and losses to Biden's overall presidential plan due to difficulties passing bills and legislation. It'll be interesting to see what he accomplishes in his second year, and what new challenges he will face in office.
Editor's note: All of the statistics in the article have been updated as of February 9th, 2022. We acknowledge that these numbers fluctuate often and may not reflect the status quo.
Sources:
DeSilver, Drew. "Turnout Soared in 2020 as Nearly Two-Thirds of Eligible U.S. Voters Cast Ballots for President." Pew Research Center, Pew Research Center, 28 Jan. 2021, https://www.pewresearch.org/fact-tank/2021/01/28/turnout-soared-in-2020-as-nearly-two-thirds-of-eligible-u-s-voters-cast-ballots-for-president/. 
"List of Jewish Political Milestones in the United States." Wikipedia, Wikimedia Foundation, 30 Nov. 2021, https://en.wikipedia.org/wiki/List_of_Jewish_political_milestones_in_the_United_States. 
Gittleson, Ben. "Biden's Report Card: 1 Year in, Accomplishments and Stalled Priorities." ABC News, ABC News Network, https://abcnews.go.com/Politics/bidens-report-card-year-accomplishments-stalled-priorities/story?id=82331377. 
Michael. "Biden's Pandemic Fight: Inside the Setbacks of the First Year." The New York Times, The New York Times, 23 Jan. 2022, https://www.nytimes.com/2022/01/23/us/politics/biden-covid-strategy.html?searchResultPosition=2. 
The New York Times. "See How Vaccinations Are Going in Your County and State." The New York Times, The New York Times, 17 Dec. 2020, https://www.nytimes.com/interactive/2020/us/covid-19-vaccine-doses.html. 
DeSilver, Drew. "Gasoline Costs More These Days, but Price Spikes Have a Long History and Happen for a Host of Reasons." Pew Research Center, Pew Research Center, 9 Dec. 2021, https://www.pewresearch.org/fact-tank/2021/12/09/gasoline-costs-more-these-days-but-price-spikes-have-a-long-history-and-happen-for-a-host-of-reasons/.