NY Nets Star Player, Kyrie Irving, Chooses To Remain Unvaccinated
 Ever since the production and distribution of the COVID-19 vaccine, questions concerning the legality and morality of establishing vaccine mandates have been at the forefront of conversations. While supporters say they are necessary in ending a nearly two-year long pandemic, opponents argue vaccine mandates violate individual rights protected under the U.S. Constitution.
 Regardless, they currently exist and continue to be enforced under various state governments. However, many people are refusing to get the shot and in turn, compromising their career. Kyrie Irving, NBA player for the Brooklyn Nets is one of these people, and his resistance has sparked controversial backlash.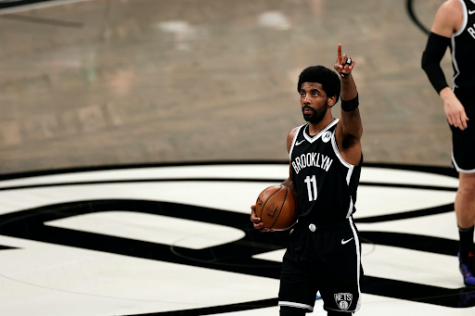 New York has placed a mandate that requires "professional athletes on one of the city's teams to be vaccinated to practice or play in public venues" (NBA). As a result, Irving hasn't been able to play with the team in any home games. While he was able to play with the Nets in games on the road, he had to give up half of his salary, about 16 million dollars, by missing home games. That said, Irving "chose what's best for [him]" and while conflicted in his stance, he doesn't seem to be wavering any time soon.
 In early November, Eric Adams won the New York City Mayoral election and his induction raised the question of if his new administration would change the current vaccine mandate that's so heavily affecting the Brooklyn Nets. However, Adams said that he will not be changing the vaccination rules and it is up to the NBA and Irving to come up with a conclusion. These comments quickly led to confusion as the NBA does not have a mandate in place and is instead abiding by respective cities' guidelines. While Kyrie had been playing on the road, the Nets franchise decided they didn't want him as a part-time player.
 Nets coach Steve Nash said "If we could have Kyrie back, we'd all be ecstatic. But we focus on our team, we keep building, we keep growing, and hopefully we'll be a really good team at the end of the year."
 It seems as if the only way Irving can continue playing this season is to ultimately get vaccinated. The Nets' season is picking up and only time will tell if they can make it to the playoffs without their key player.
Source:  https://www.nba.com/news/kyrie-irving-addresses-not-getting-covid-19-vaccine-on-instagram-live