Autumn at Berkshire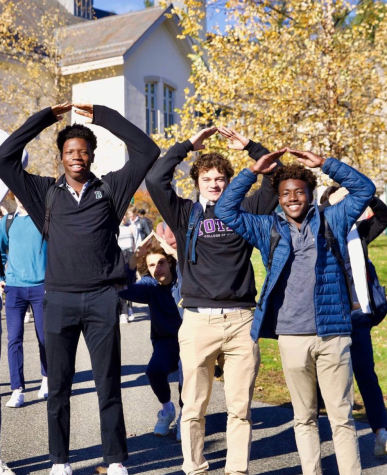 This past season at Berkshire has been one for the record books! As schoolwork ramps up and fall afternoon activities wind down, you finally realize that yet another winter under the mountain is upon us! 
 First off, the fall carnival was a huge success! On October 23rd, the Green and Grey teams went all out in every single event. We were fortunate to have a pumpkin carving contest, doughnut eating contest, pie eating Contest, a ring toss, dance off Competition, egg and spoon relay race, and a cornhole game. Overall, the highlight of the night was seeing the amazing Billy Adkins win the Pie Eating Contest!
 In the following weeks, we were fortunate enough to have the most amazing day in the fall at Berkshire, MOUNTAIN DAY! I know I had a blast with my friends walking to Marketplace and watching Harry Potter! It was overall an amazing day and a great time for our community to rest. 
 Additionally, the Berkshire community has had a stellar year in terms of athletics, with the JV girls volleyball team going undefeated this entire season. The same goes with the men on the JV soccer team with 15 wins, one tie, and not a single loss. If you check out the Berkshire School Athletics Twitter, you can see an awesome video of Mr. Hetraf getting water dumped on him out of appreciation for guiding his JV team to victory. 
 Senior Sydney Allen sums up the Varsity Field Hockey season perfectly: "overall great and buzzy season, and thrilled we made playoffs." And to end fall sports with a bang, the Boys Varsity Football Team ended a home game with a score of 48 to nothing. Finally, I want to give a shout-out to my family on cross country for an amazing season!
 Fall under the mountain was truly a blast and I can't wait to see what winter has in store for us!