Bears Raise Awareness for Breast Cancer Awareness Month
      October is Breast Cancer Awareness Month, a health campaign by major breast cancer charities. The campaign is symbolized by a pink ribbon. During this month, people purchase pink items from fundraiser stands to raise money for breast cancer charities while wearing pink items such as ribbons, socks, and t-shirts, to show support. This year, Berkshire School took part by wearing pink socks during sports games.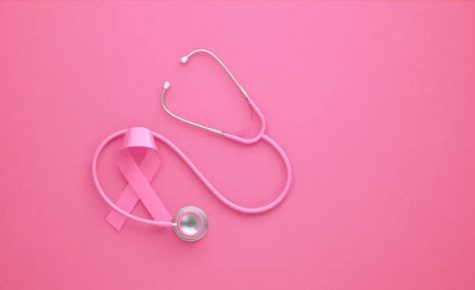 Breast cancer is the number one cancer experienced by women worldwide, and the campaign aims to spread awareness and support for those who are fighting against it. Funds raised during the month of October are used to support breast cancer research and provide medical aids.
      During the 2021 Fall Family Weekend, Berkshire athletes wore pink socks that had a pink ribbon, and the school initial 'B' to their games to show support. The socks were worn even after the weekend in a variety of matches such as soccer.
      In a couple weeks, the Bears will face off against Taft Rhinos in an annual pink out game: a game dedicated to the memory of Lucille D'Arco, the mother of Brad D'Arco, "a former Berkshire faculty member, boys hockey coach, and 1999 Taft alumnus." Each year, the money raised from t-shirt sales is directed to organizations committed to supporting individuals that have been impacted by cancer. We look forward to a great matchup and spreading awareness about an important cause.
      Additional information about Breast Cancer Awareness Month & links to donate can be found here: https://www.nationalbreastcancer.org/about-breast-cancer/
Source:
https://media.gettyimages.com/photos/pink-stethoscope-and-pink-breast-cancer-awareness-ribbon-on-pink-picture-id1273931100?s=2048×2048