JV Volleyball's Undefeated Season
 The 2021 Fall Season threw Berkshire's sports teams back into the routine of inter-school games. After a year stifled by COVID-19, with teams unable to play proper games against other schools, the excitement was immense, and the Girls JV Volleyball team emerged from the season undefeated. 
 With a packed schedule of 16 total games in the season, not counting a scrimmage and a tournament, the players were busy practicing hard when not battling it out on the court. The Bears encountered many tough teams but remained triumphant in the end.

 One notable game was against Millbrook School,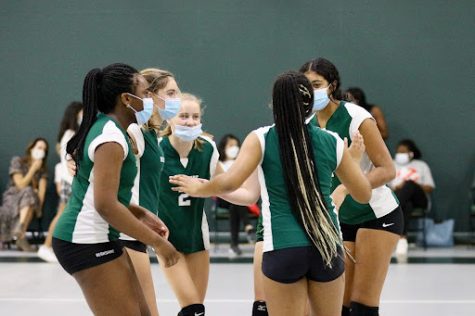 where the game was taken to the fifth set. The players pulled through and managed to win by just two points. "Our mental strength was really tested at Millbrook," noted Sanjna Srinivasan '22, one of the captains of the team, "but through good communication and understanding the needs of the team, we were able to defeat them."
 When asked about what she believed were the reasons for the team's success, Sanjna stated that a strong mindset and good synergy definitely contributed. "We had amazing and dedicated players, and of course our awesome coaches," she added. Ms. Clementina Davila '14 and Mr. Pape Seye were both new to coaching the sport, making the team's winning record even more impressive. 
 The final game of the season against Wilbraham & Monson Academy was sadly canceled. However, our players still had a fun afternoon of bonding and recognition for outstanding performances in the team! Many Bears started off with little volleyball experience, but by the end became an integral part of the team. Along with the two new coaches this year, it was a valuable season of learning for everyone and definitely one to remember.