Easter Eggs (Taylor's Version)
 God works fast, but Swifties work faster. Taylor Swift fans are notorious for decoding hidden messages in Taylor Swift's lyrics, videos, and social media posts: hints also known as 'Easter Eggs'. While Taylor fans are fast, Taylor always seems to be about thirteen steps ahead. Nothing is taken as a coincidence in the Taylor Swift fandom as Swifties analyze Easter Eggs like it's a crime scene. 
 After her first six masters were sold out from underneath her by Scooter Braun, a name often unspoken in the fandom, Taylor has announced that she will rerecord all of her old albums and title them "Taylor's Version." Leaving fans guessing which order she will drop her albums, Swifties are hot on her trail to figure out what is coming next. 
 As the 2019 Artist of the decade, Taylor Swift appeared on stage to perform a mashup of some of her greatest hits. Keeping in mind that had yet to announce her decision to re-record her albums, she appeared on stage in a white dress with the titles of all of her six masters. This has left swifties questioning if the placement of their titles has anything to do with their release date. Given Taylors in-depth easter egg hiding, it probably does.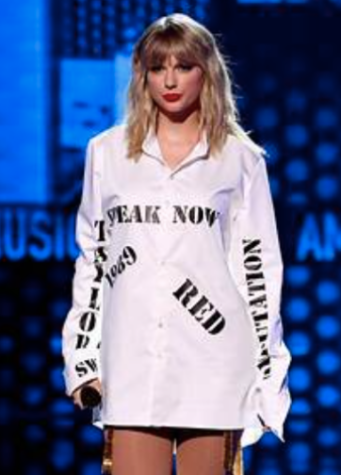 On stage she began with singing a track titled The Man from her first personally owned album Lover with a blatant reference to the misogyny in the music industry. She proceeded to sing the next songs from three of her albums, Fearless, Red, and 1989, in that order. We now know that her first re-recorded album to drop was Fearless and she has announced Red to drop this November… could it mean that 1989 is next? By the Swifties math, we hope so; however, there is no telling what Taylor has up her sleeve (literally). 
 As we move ahead, Taylor Swift fans eagerly await the drop of her next re-recorded album. Originally announced for release on November 19th of this year, Red's release date has been moved to November 12th, one day before the 13th, Taylor's lucky number. The 12th and the 19th added together are equal to 31, and 31 is just 13 backward, but are we overthinking now? 
 Maybe not everything has a direct easter egg but Taylor's signed CDs that went on sale a couple of weeks ago were sold for… yes you probably guessed it.. $19.89. What exactly this means, only time will tell. Or maybe the fandom will tell us if they figure it out first. Until then, our Taylor Swift post notifications our on and or detective caps are ready.