The Berkshire Community Welcomes Mr. Palmer!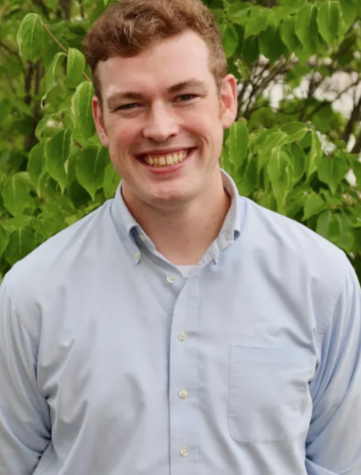 This year, the Berkshire community welcomed many new faculty members! Today, I sat down with Mr. John Palmer, a new physics and math teacher here under the mountain, and asked him a bit about himself, his time before Berkshire, and his hopes for the future.
Page: Can you briefly describe your background, such as where you went to school and where you may have worked before coming to Berkshire?
Palmer: I was from a military family, so we moved all over. I went to about fourteen schools by the time I graduated high school. I went to college at the University of Chicago where I majored in physics. Out of college I was working in finance in downtown Chicago where I was an equity options market maker… but it wasn't for me. I started working as a math learning specialist at an independent school in North Chicago. I'd also, through college, worked at Wolfeboro, a five-week intensive academic summer program in New Hampshire. That's where I met Mr. and Mrs. Cooper, the ones who told me about Berkshire and brought me here. 
Page: What are your favorite hobbies or interests?
Palmer: I'm a big baker…I do a lot of baking! It's like cooking but more sciencey…more measuring, more weighing, more precision, and the stuff that turns out is generally fun to test! I really like games, as well. Any type of game with rules and competitive depth, from chess to football, I can get into. 
Page: What sparked your interest in physics and math?
Palmer: I had a really good middle school science teacher. He was a retired meteorologist that would carry around a rock hammer. I had him in seventh and eighth grade and he was one of those teachers that would get you excited about what you're learning. He did a physics intro for us in eighth grade and I realized in that class that I liked knowing how the world works. I structured my whole high school schedule around physics classes and by the time I got to college I realized if I didn't do physics, I would feel bad. It wasn't necessarily a calling, but rather I would feel guilty not to pursue physics. Part of that is curiosity…physics gives you the chance to understand how the world around you works. Studying physics is continuing asking "why?" until there's a fundamental answer. In physics, you get to the rules and it's just a game, with rules and consistency. 
Page: What is your teaching method or your values regarding education?
Palmer: Teaching has nothing to do with me. It's all about what the students get out of it. If I can't get the students to care about what we're doing, it's not going to be effective, even if they can regurgitate some information on a quiz…it's not going to make any difference in their lives. In terms of educational values, I believe everyone should have a voice in the classroom. There are many different paths to get somewhere in education. I love setting my students up for success and giving them the tools to succeed. It's not always just about math, it's about study skills and executive functioning. 
Page: Where else will students see you around campus/what are you involved in under the mountain?
Palmer: I live in Eipper with my partner, Ms. Bagby, who teaches at Indian Mountain School. I'm on duty Sunday nights. I also coach strength and conditioning in the fall and crew in the spring!
Page: Is there any advice you would like to give to students at Berkshire?
Palmer: This is a little bit of a cliche, but you definitely get out what you put in. There's a tremendous opportunity here…most schools aren't like Berkshire. Most colleges aren't like Berkshire. There's so much support and opportunity to explore new things, to explore your own identities, to explore the world outside of you. It can be tough to juggle all of these things, but if you can figure out a way, you'll be glad you did. That being said, don't push too hard. Mental health matters. Take care of yourselves!